Last Updated on August 6, 2023 by Krystine
The northern snakehead fish has garnered attention as an invasive species across the United States.
While sensationalized, snakeheads do pose serious risks as aquatic invaders.
But what effects do these voracious predators have?
What Does the Northern Snakehead Do to the Environment?

The northern snakehead poses significant risks to freshwater environments as an invasive apex predator that can outcompete native fish, rapidly reproduce, and alter local food webs.
Snakeheads compete directly with ecologically similar sportfish species, which can decrease the recruitment of predators like bass and perch.
Their voracious appetites disrupt zooplankton, insect, and crustacean food sources, impacting aquatic ecosystems.
Once established, snakeheads are virtually impossible to fully eradicate.
Preventing further spread and population growth through strategic monitoring and removals helps limit environmental harm.
Key Points
Snakeheads displace native predatory fish through competition for resources.
Prolific spawning enables exponential population growth when introduced.
Altering complex food webs impacts ecosystem stability long-term.
Do northern snakeheads outcompete native species?
Yes, northern snakeheads likely outcompete native predators for food and habitat in invaded freshwaters.
Their fast growth, disease resistance, and wide diet contribute to displacement risks.
However, studies show variable impacts depending on the environment.
In some waters, largemouth bass populations appear more affected than northern snakeheads.
Research continues assessing complex competitive dynamics.
How does the northern snakehead reproduce?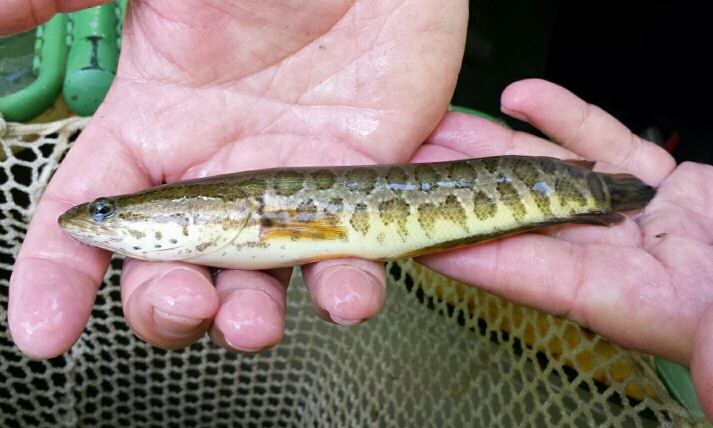 Northern snakeheads spawn prodigiously, releasing up to 150,000 eggs at a time.
They reproduce multiple times annually when conditions allow.
Fast maturation and egg production drive exponential population growth.
This high reproductive capacity quickly establishes expanding snakehead populations that are difficult to control with traditional fishery management practices once established.
Do northern snakeheads have an adverse environmental impact?
Yes, primarily through competition with native species.
Snakeheads may reduce the recruitment of other predators like bass and perch through predation and competition for food sources during juvenile life stages.
Declines in native species following snakehead introduction have been documented.
However, effects vary across different environments based on existing ecological balances.
Can northern snakeheads alter local ecosystems?
As opportunistic apex predators, northern snakeheads can potentially impact local ecosystems by displacing competing native fish.
This has complex cascading effects across food webs.
However, snakeheads mainly occupy an open niche not utilized by resident predators.
Most impacts stem from competition during juvenile stages when food demands overlap across species.
How do northern snakeheads affect the economy?
Snakehead invasion risks local recreational fishing opportunities and related tourism revenue dependent on robust native fisheries.
Angler surveys reveal strong preferences favoring native sportfish species.
However, the potential exists for specialized snakehead tournament fisheries.
Location, existing management, and angler attitudes determine ultimate economic effects.
What is the problem with the northern snakehead?
The core problem is northern snakeheads are apex predators not native to North America which can quickly dominate freshwater habitats.
Their predatory needs overlap with popular sportfish.
Unchecked spread risks disrupting fisheries.
However, snakeheads mainly occupy open ecological niches and are not invasive everywhere.
Targeted removals at critical locations, when populations are low, maximize control.
Can northern snakeheads be eradicated?
Complete eradication is unrealistic once established.
Their prolific spawning makes permanent extermination virtually impossible across large areas.
Instead, managers focus on containment through targeted removals, barriers, education, and enforcing regulations prohibiting live transport and unauthorized stocking.
Minimizing spread protects ecosystems.
Are northern snakehead habitat specialists?
No.
Northern snakeheads are habitat generalists, tolerating a wide range of conditions.
They thrive in shallow ponds, swamps, rivers, reservoirs, and lakes with mud or vegetated cover from temperate to tropical climates.
This adaptive generalism allows for occupying diverse freshwater habitats.
Limiting human transfer prevents the introduction of snakeheads to new environments where invasion risks are higher.
What is the importance of snakehead fish?
Snakeheads are valued food fish in their native Asian ranges.
Their rapid growth, size, and meat quality make them an appealing aquaculture candidate.
However, these traits contribute to invasion risks if raised illegally or introduced intentionally without regulation into non-native waters.
Their economic benefits must be weighed carefully against long-term environmental risks.
What Does the Northern Snakehead Do to the Environment that Affects the Ecosystem?
Northern snakeheads affect freshwater ecosystems mainly through competition with ecologically similar native species for food and habitat resources.
As aggressive apex predators, snakeheads outcompete other predators like bass, perch, and pike for prey, reducing the recruitment of these native species over time.
The diverse appetites of snakeheads also alter zooplankton, insect, crustacean, and vegetation food sources, impacting resources available to other aquatic life.
Additionally, as hardy generalist predators, invasive snakeheads occupy a range of waterbody types, spreading quickly and further disrupting native food webs once established.
The complex ecosystem impacts of snakehead competition, voracious feeding habits, rapid reproduction, and habitat generalization make them challenging invaders to manage once introduced outside their native range.
How Does the Northern Snakehead Affect the Economy?
Invasive northern snakeheads pose potential risks to recreational fisheries focused on popular native sportfish species like largemouth bass, walleye, and yellow perch.
As snakeheads displace these native fish through competition, angling opportunities decline, impacting local recreation and tourism revenue dependent on diverse freshwater fisheries.
However, some regions have developed niche snakehead tournament fisheries that temporarily benefit local economies.
Snakeheads also offer aquaculture opportunities as high-value fish, but illegal stocking damages regional biodiversity and fisheries.
Overall economic impacts vary based on habitat, existing management priorities, and angler preferences.
But unchecked snakehead spread generally threatens recreational angling markets built around balanced, native fisheries.
What is the Problem with the Northern Snakehead?
The core problem with northern snakeheads is they are apex predators native to Asia that become invasive when introduced to North American freshwaters where they lack natural population controls.
Snakeheads can quickly dominate habitats, reducing native biodiversity and disrupting established recreational fisheries focused on species like bass and perch.
Their rapid reproduction enables exponential population growth and spread.
Snakeheads also have generalized environmental tolerances allowing survival across diverse waterbodies.
While occasionally benefiting some anglers, snakeheads ecologically and economically damage vulnerable freshwater habitats by competing with prized native sportfish.
Preventing unauthorized introductions and controlling localized populations are key to limiting detrimental impacts.
What is the Importance of Snakehead Fish?
Snakeheads are highly valued freshwater food fish in their native ranges across Asia.
They grow rapidly, reach large sizes, and have tasty white meat.
These qualities make snakeheads appealing candidates for aquaculture development.
However, the same biological traits that allow fast growth enable invasive snakeheads to quickly dominate habitats and outcompete native species outside Asia.
While economically important for some regions and aquaculture systems, introducing snakeheads into non-native open waters creates major environmental risks.
Any economic benefits of snakehead fishing and farming must be strategically balanced against long-term harm to recreational fisheries, tourism, and aquatic ecosystems through aggressive management and prohibitions on unauthorized stocking.
Open-water snakehead conservation should focus on their native ranges, not where they become invasives.
Key Takeaway
Outcompetes and displaces ecologically similar native predatory fish
Prolific reproduction enables rapid population growth and spread
Alters local aquatic ecosystems and food webs as an invasive apex predator
Poses risks to recreational fisheries and related tourism revenue
Realistically cannot be fully eradicated once established in open systems
FAQ
How do snakeheads affect the ecosystem?
As opportunistic invaders, snakeheads compete with native sportfish and alter aquatic food webs, reducing zooplankton and insects. Declines in other predators can follow snakehead establishment. These disruptions risk destabilizing freshwater ecosystems. Careful monitoring and strategic removals help minimize ecological impacts.
How does the northern snakehead affect the economy?
Invasive snakeheads can negatively impact recreational fisheries focused on bass, perch, pike, and other sportfish through competition. This threatens related tourism revenue. However, some regions have developed niche snakehead tournament fisheries. Economic effects vary based on local habitats, management, and angler preferences.
What is the problem with the northern snakehead?
The core problem is northern snakeheads are invasive apex predators that spread quickly when introduced outside their native Asian ranges. They compete with popular sportfish and can dominate waters, reducing biodiversity. Their voracious appetites disrupt food chains. Preventing unauthorized introductions, monitoring spread, and strategic removals are crucial to minimizing environmental and economic risks.
At GreenChiCafe, we are passionate about the environment and preserving the beauty of the natural world.
Please check out our website for more content on living sustainably.